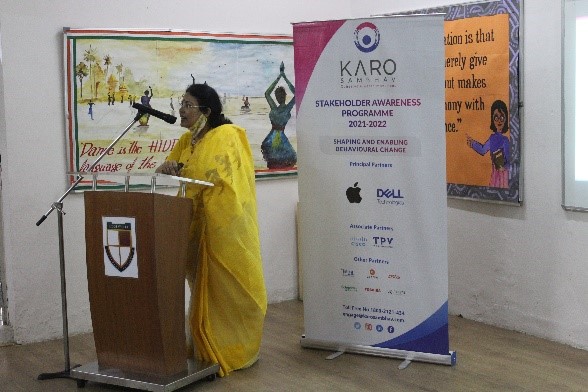 Stakeholder Awareness Program -2021-22 by Karo Sambhav
RESOURCE PERSON
Ms. Swati Ganguli

OBJECTIVES OF THE ACTIVITY:-
1.) Creating awareness about disposing of E-waste
2.) Making teachers aware of the harmful effects of not disposing E-waste properly on the environment.
3.) Stop child labour

BRIEF DESCRIPTION
The resource person Ms. Swati Ganguli created awareness among the teachers regarding E-waste in detail. She mentioned that due to the covid-19 pandemic the use of electronic devices has increased a lot and hence there is a huge increase in e-waste too. She mentioned that we do not dispose of our e-waste in the right manner and rather we put it in the dustbin which goes to the local garbage collected and he hands it over to vendors who extract the metals from these gadgets. She also mentioned that there is a huge number of child labour who is exposed to these harmful metals every day. She emphasized that we as educators should start disposing of our E-waste through the right medium and create awareness amongst our students also. We can go to the collection centers to dispose of our e-waste or sell them back to the same company from which we bought it and they will recycle it and make new things like in Tokyo Olympics the medals were made by recycling the e-waste.

WHAT WENT WELL?
It was a very informative session and created an awareness about disposing of our e-waste using the right path.

SUGGESTIONS FOR IMPROVEMENT NEXT TIME THIS ACTIVITY TAKES PLACE:
The session was very interesting and informative. There should be such more sessions for the students too.