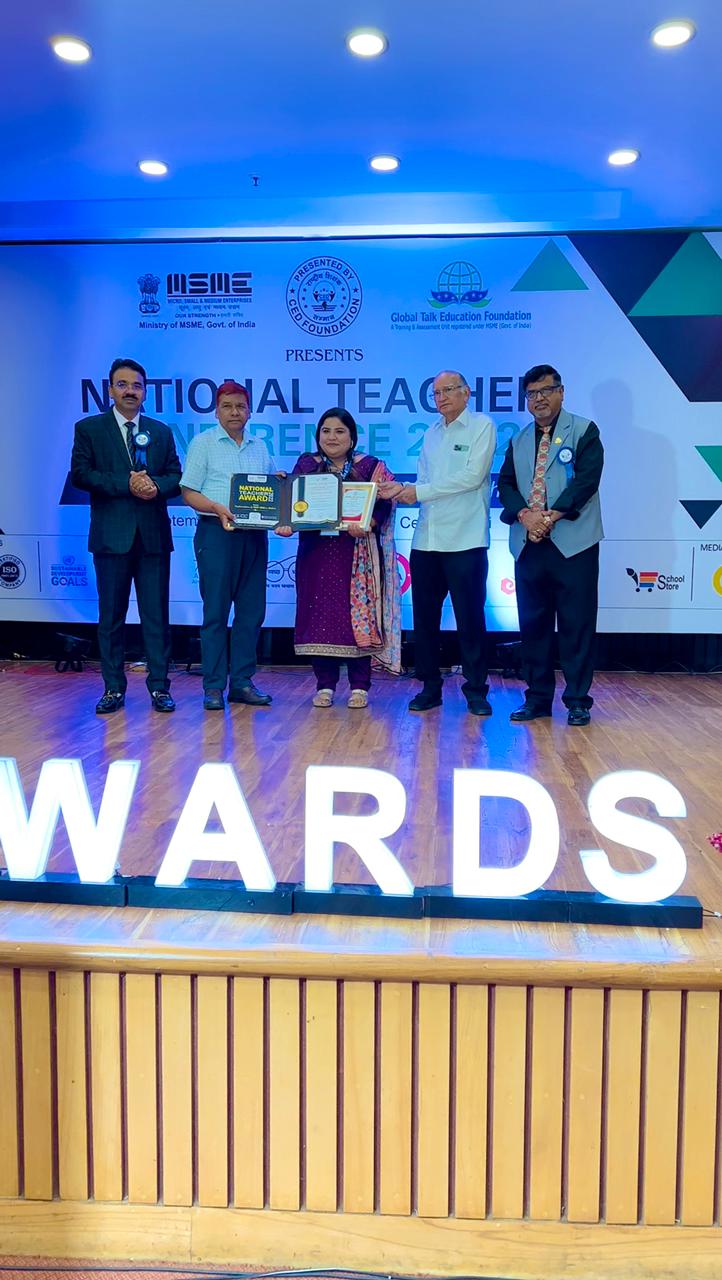 National Teacher Award-2022
Ms. Her Simran been awarded with National Teacher Award-2022 in the subject of Srinivasa Ramanujan National Mathematics Award. The award ceremony was organised by MSME, Ministry of MSME, Govt. of India and Global Talk Education Foundation (CES Foundation) held at India International center, New Delhi on 4th September.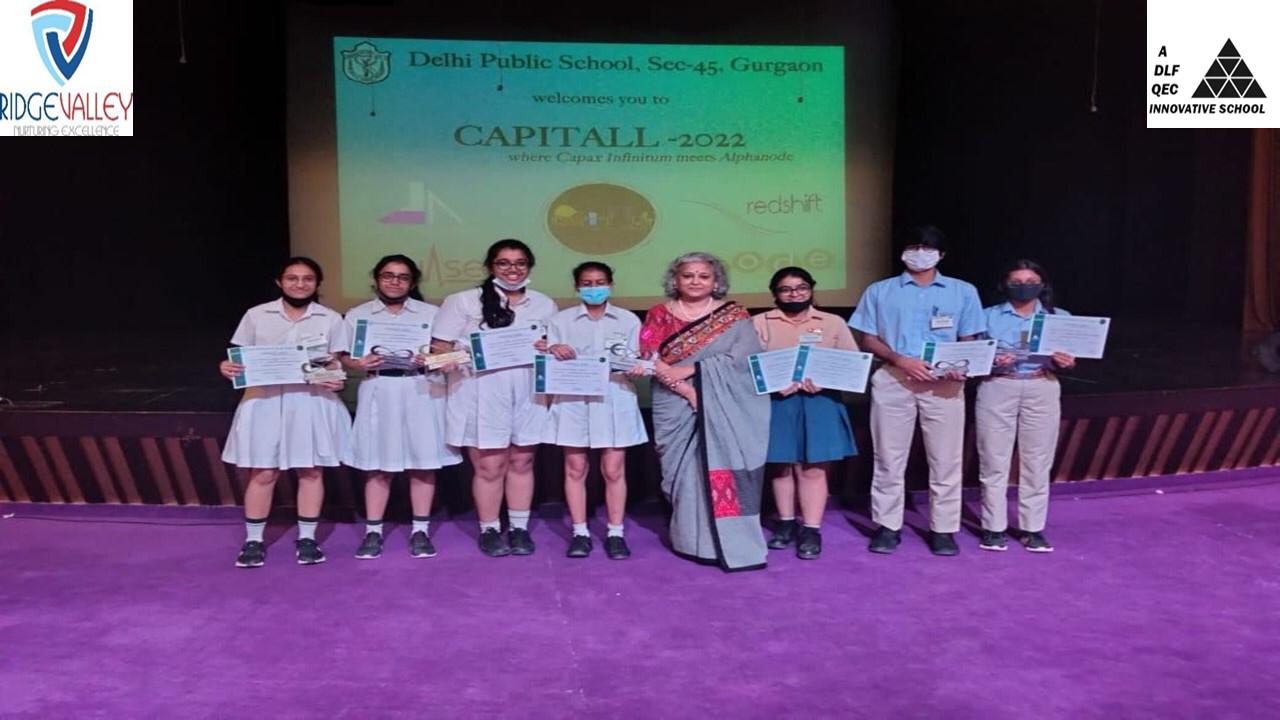 CHEM-O-SCIENCE CAPITALL - 2022 INTERSCHOOL EVENT
Diya Singh and Karan Pratap Singh bagged 3rd position in "Chem-O-Science", CAPITALL - 2022 interschool event organized by Delhi Public School sec 45.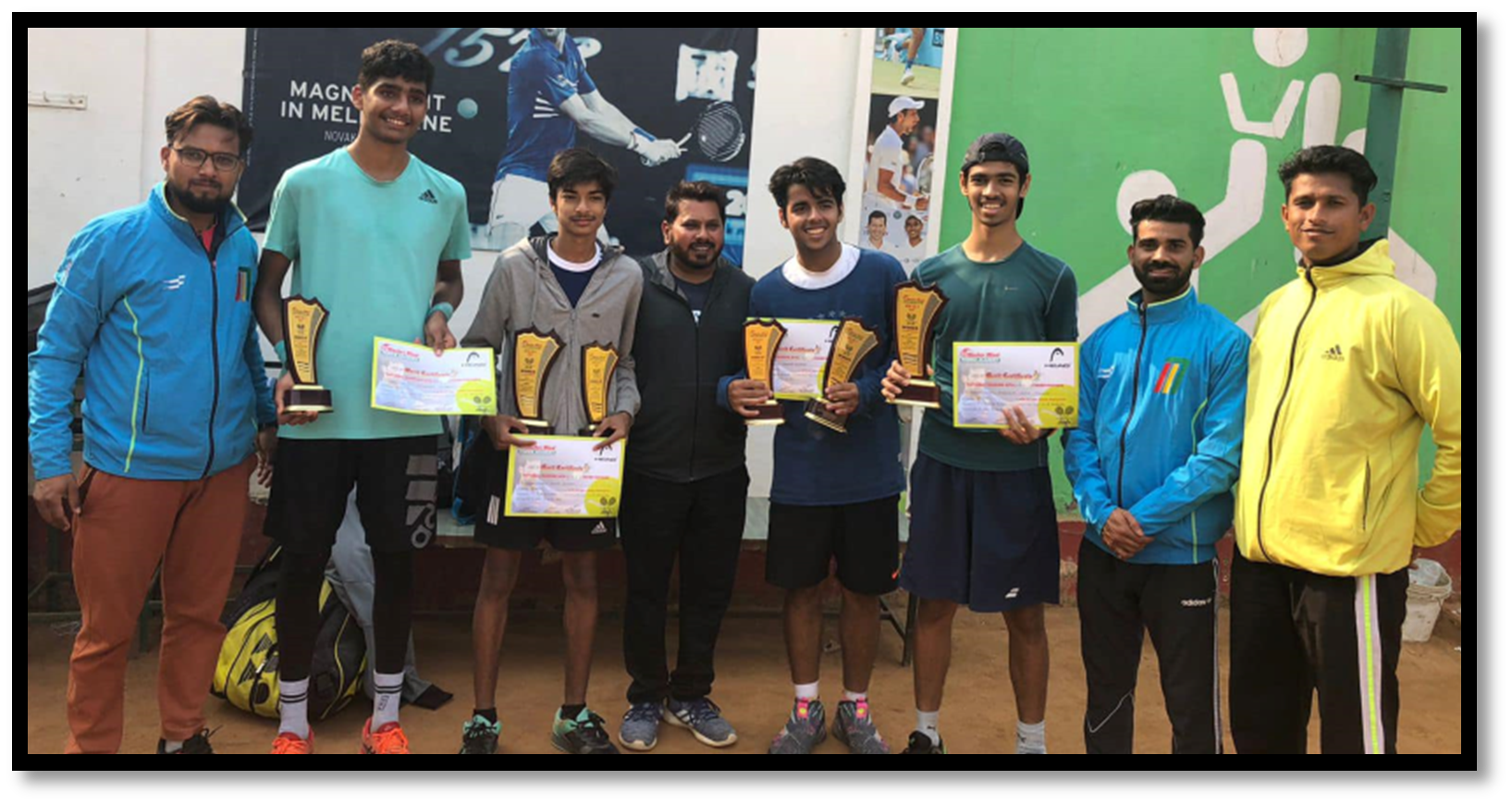 NATIONAL RANKING AIAT (CS-7) CHAMIPIONSHIP
Shashwat Guha Thakurta of Grade 11 won the Boys Under-18 doubles trophy in the AITA (All India Tennis Association) CS (Championship Series) - 7 tennis tournament organised by MM Public School, Pitampura, Delhi from 6-12-2021 to 10-12-2021. He also reached the semi-final in the boys Under-18 singles category.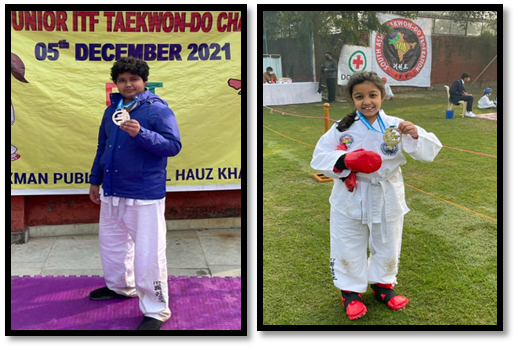 32nd DELHI STATE ITF TAEKWON-DO CHAMPIONSHIP
Aadvait Panday of Grade VII and Sanvi Pandey of Grade V participated in 32nd Delhi state ITF Taekwondo Championship organized at Laxaman Public School, Hauz Khas, new delhi on 25th and 26th December 2021. They both secured 2nd positions along with silver medals under the categories of 10-13 Years and below 10 years respectively.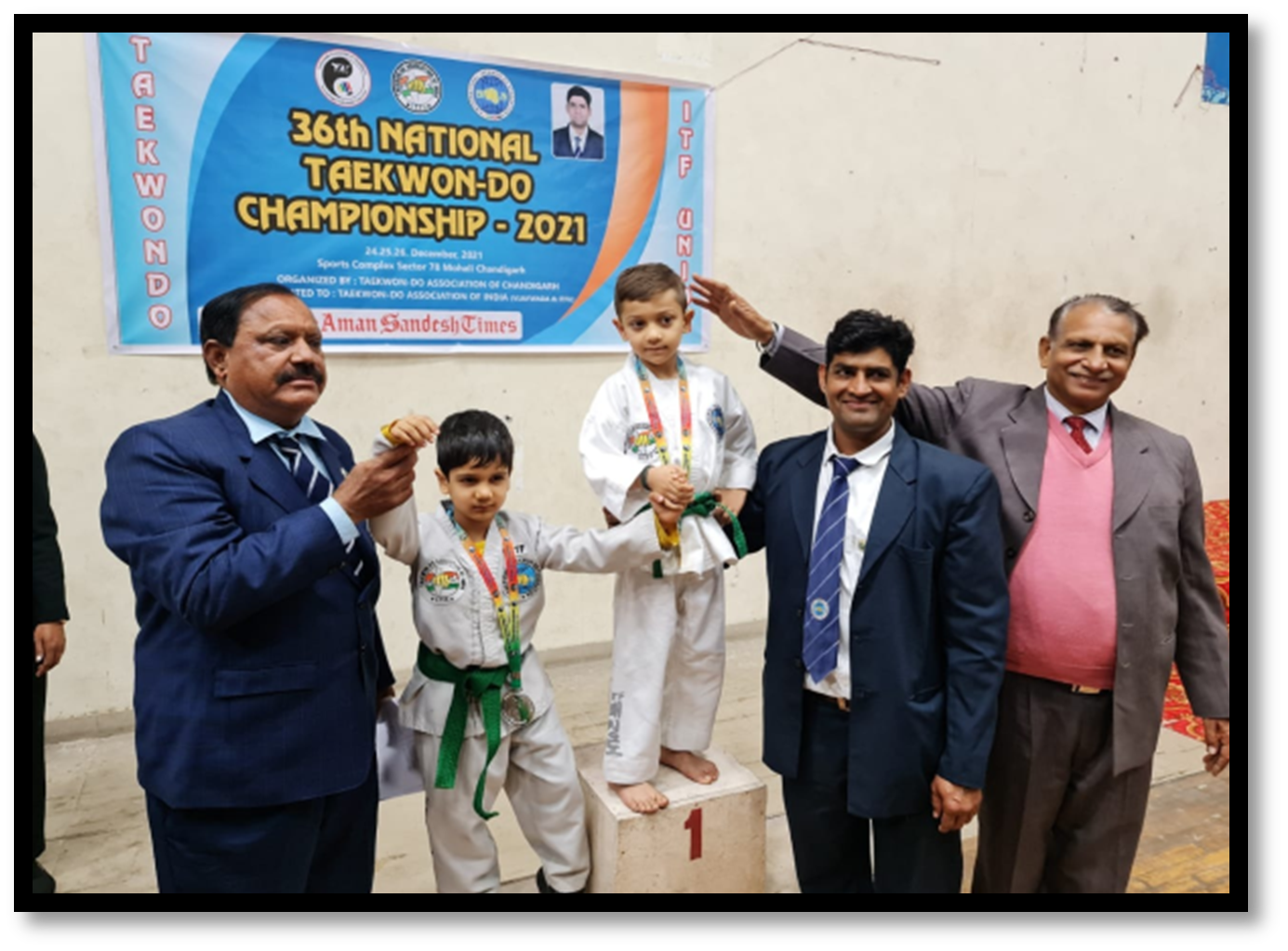 36th National Taekwondo Championship
Rudra Pratap Singh Jhala from KG A bagged Silver medal in the 36th National Taekwondo Championship 2021 organized in Mohali from 24th December to 26th December 2021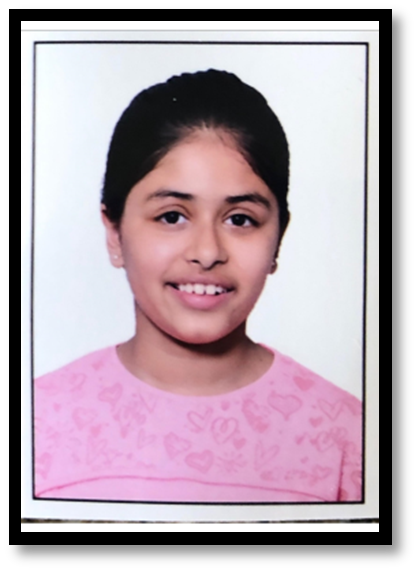 64th National Shooting Championship
Aadhya has qualified for 64th National Shooting Championship competition, Indian Trials and has won Silver medal in District SGFI (School Games Federation of India) Shooting Championship 2021-2022.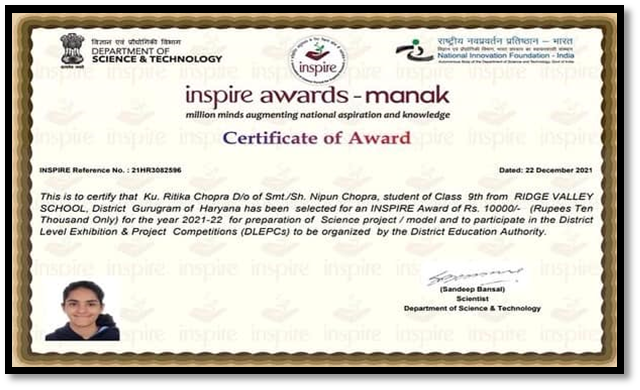 Inspire awards– Manak
Rishaan Sahagal of Grade VII and Ritika Chopra of Grade IX have been selected to participate in District Level Exhibition by Manak Inspire Awards - one of the flagship programmes of Department of Science and Technology, Government of India. They are also rewarded with Rs 10000 each.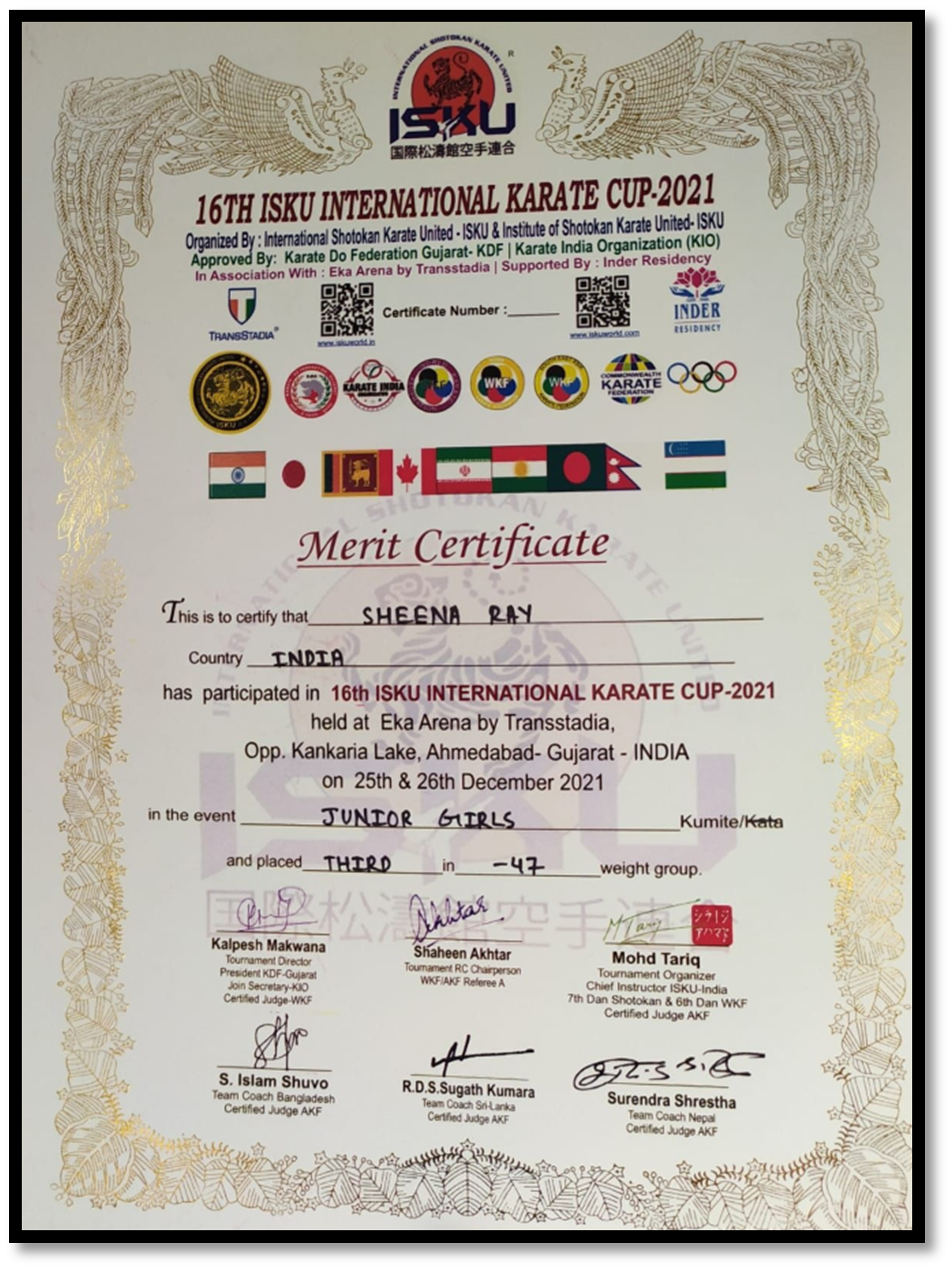 International Karate Tournament
Sheena Ray of grade IX begged the 3rd prize and won Bronze medal in her weight category of 47kg in 16th ISKU International Karate Cup– 2021.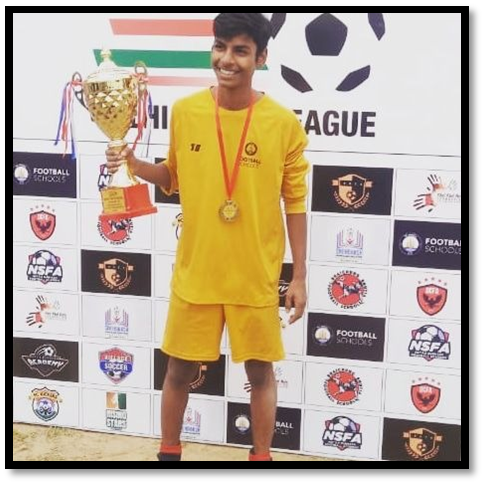 DELHI YOUTH LEAGUE
Monu Yadav of Grade VIII participated in in Delhi Youth League Competition and their team won the championship.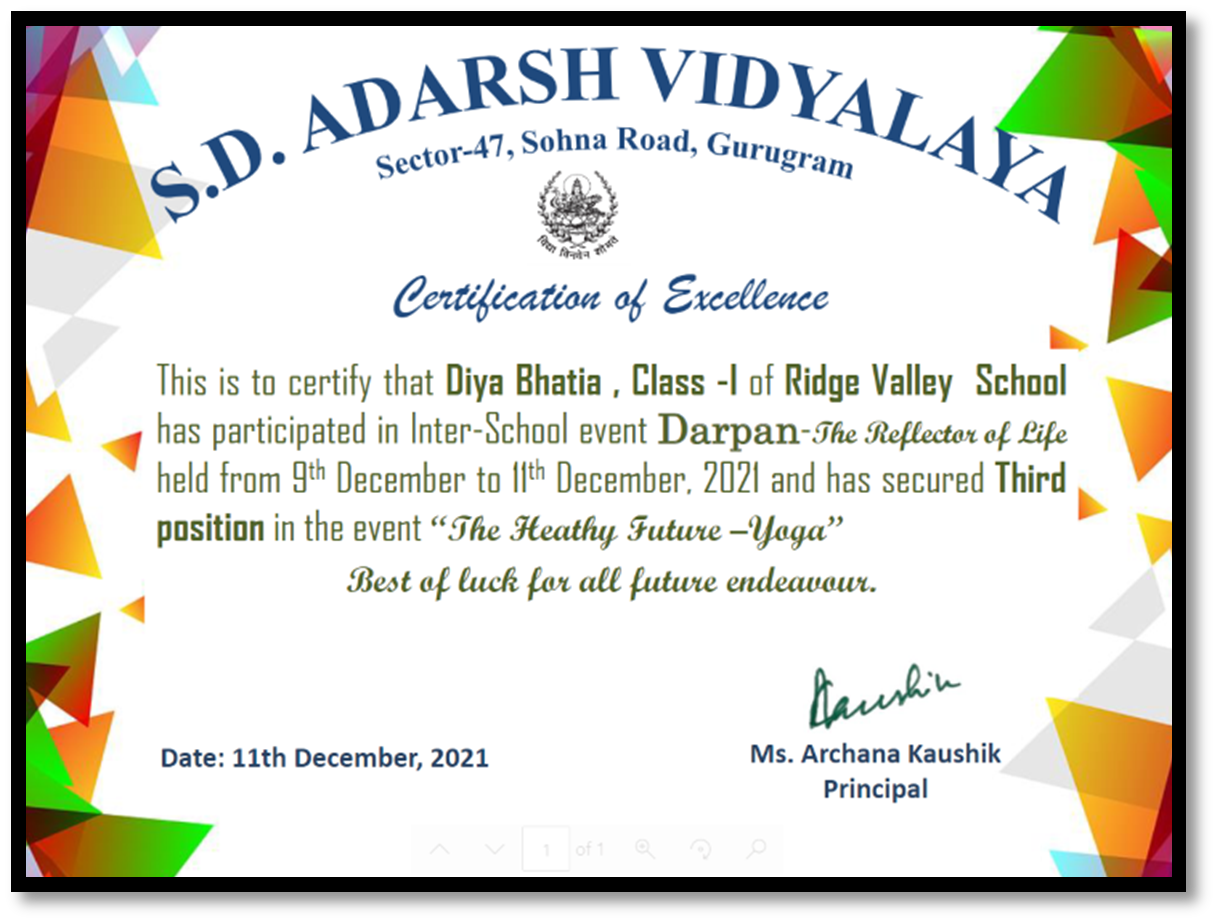 The Healthy Future – Yoga
Diya Bhatia of Grade I-B secured 3rd Position in the event "The Healthy Future– Yoga' in an Inter School event organized by SD Adarsh Vidyalaya.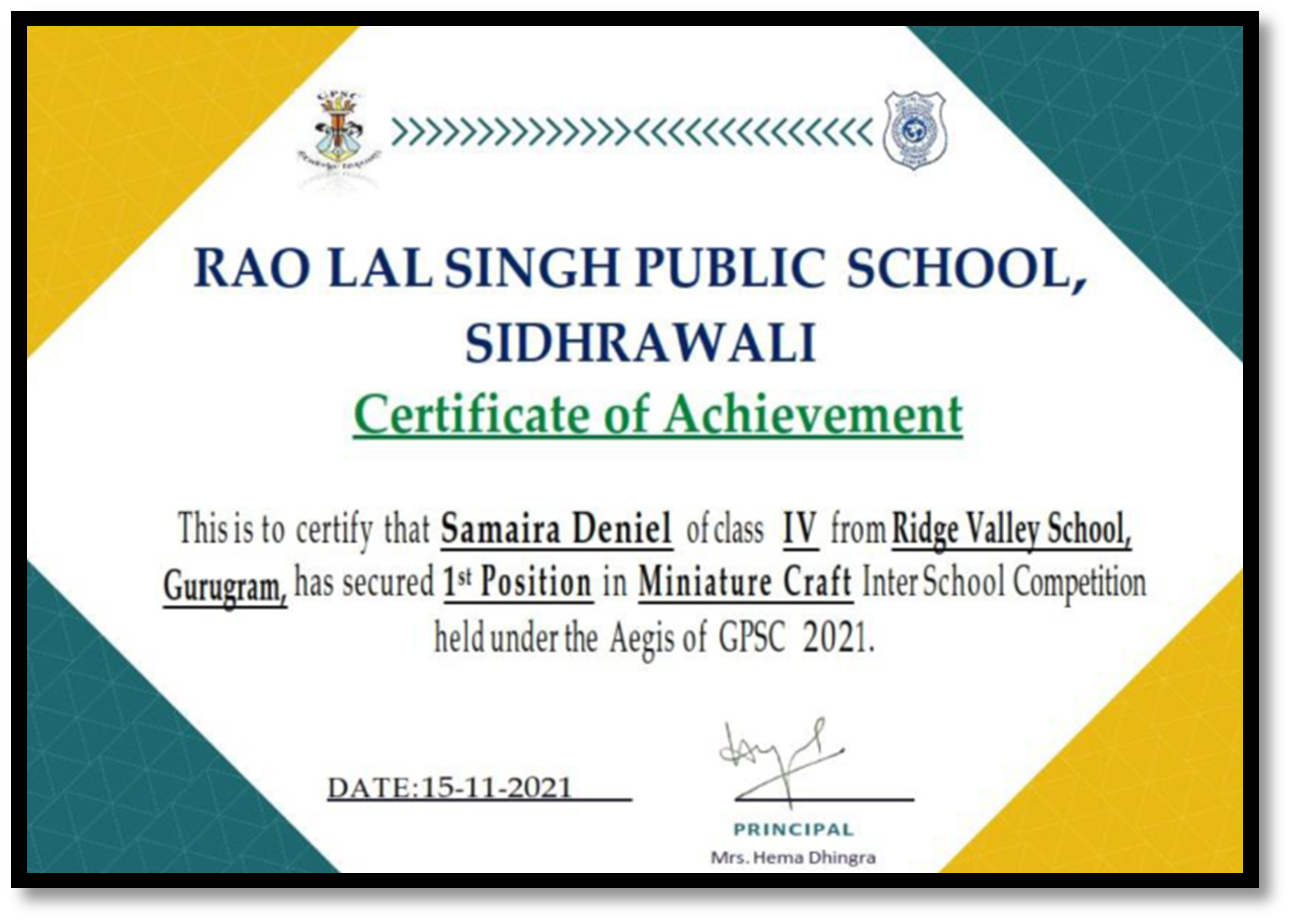 Miniature craft Event
Samaria Deniel of Grade IV-B secured 1st Position in Miniature craft in Inter School event organized by Rao Lal Singh Public School , under the Aegis of GPSC 2021.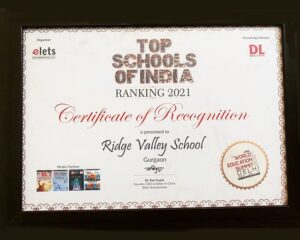 Top Schools of India Ranking 2021-22
Top Schools of India Ranking 2021- Certificate of recognition - Dated 17- Dec-2021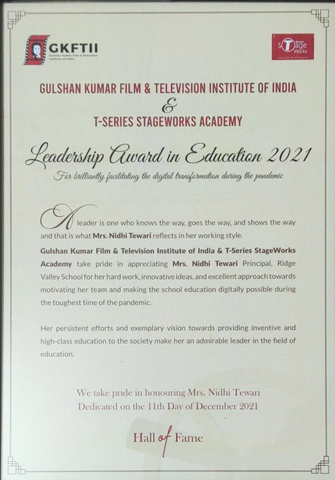 Leadership Award in Education 2021 -22
Leadership Award in Education 2021 by Gulshan Kumar Film & Television of India and T- Series Stage work- For Brilliantly facilitating the digital transformation during the pande mic. Dated 11-Dec 2021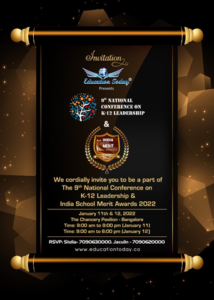 India's School Merit Awards 2021-22
Ridge Valley School is Ranked No.1 in India under the Top CBSE Schools – Parameter wise for 'Digital Learning Advancement' in a survey conducted by Education Today.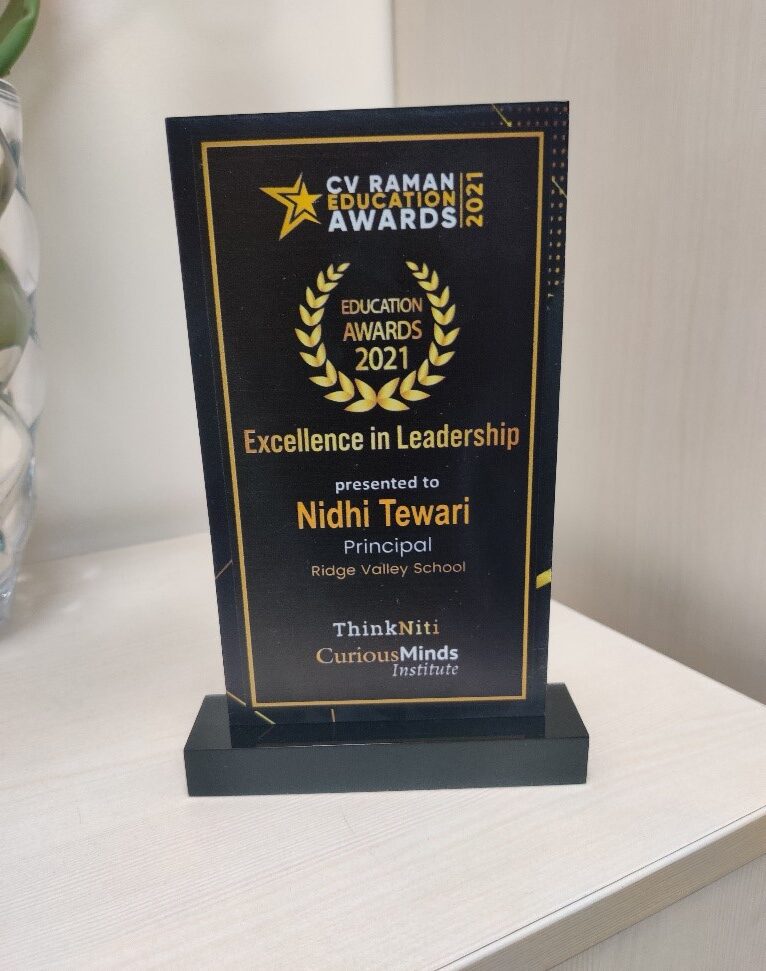 September 20, 2021
CURIOUS MINDS INSTITUTE
CV RAMAN EDUCATION AWARDS 2021 – EXCEMPLARY LEADERSHIP – Mrs. NIDHI TEWARI – PRINCIPAL, RIDGE VALLEY SCHOOL.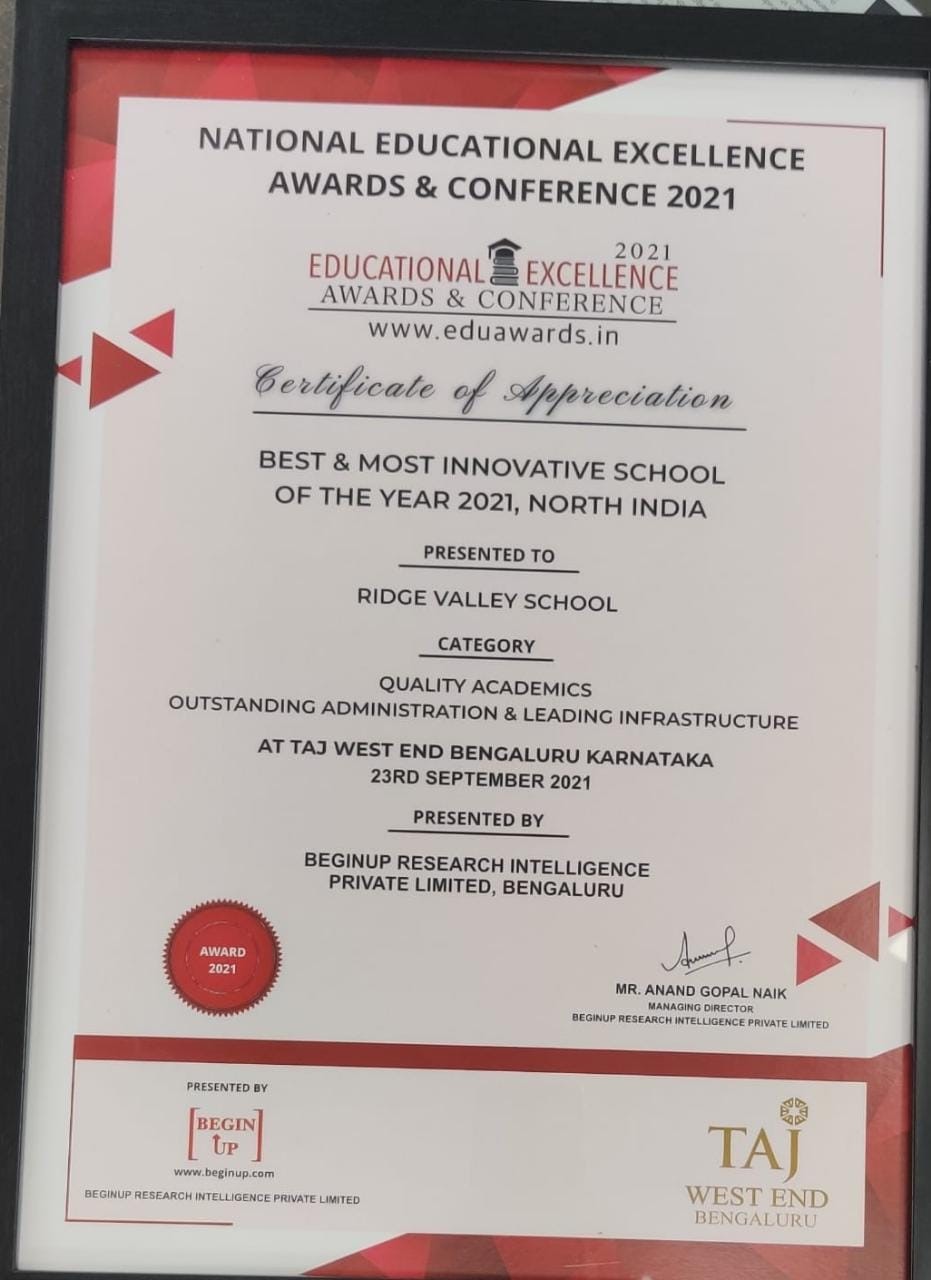 September – 21, 2021
NATIONAL EXCELLENCE EDUCATION AWARDS & CONFERENCE
BEST & MOST INNOVATIVE SCHOOL OF THE YEAR 2021, NORTH INDIA – presented to RIDGE VALLEY SCHOOL.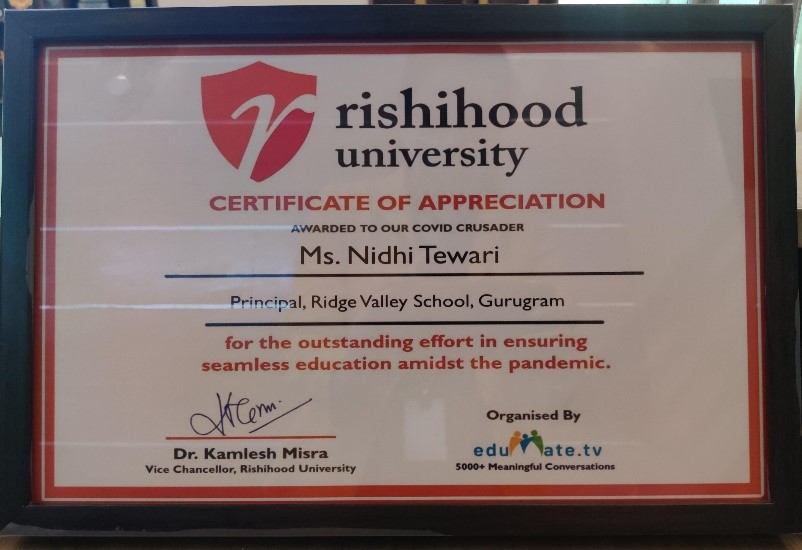 September – 22, 2021
RISHIHOOD UNIVERSITY
COVID CRUSHADERS RECOGNISING SCHOOL LEADERS CERTIFICATE OF APPRECIATION – Mrs. NIDHI TEWARI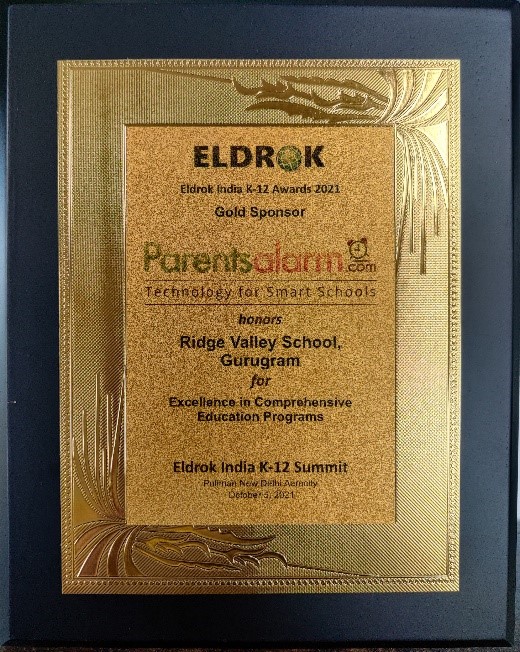 ELDROK - 5 OCT 2021
ELDROK INDIA K-12 SUMMIT GOLD SPONSOR –
EXCELLENCE IN COMPREHENSIVE EDUCATION PROGRAMS – RIDGE VALLEY SCHOOL GURUGRAM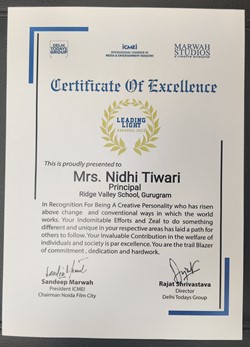 LEADING LIGHT AWARD 2021
CERTIFICATE OF EXCELLENCE –
LEADING LIGHT AWARD – Mrs. NIDHI TEWARI, PRINCIPAL RIDGE VALLEY SCHOOL.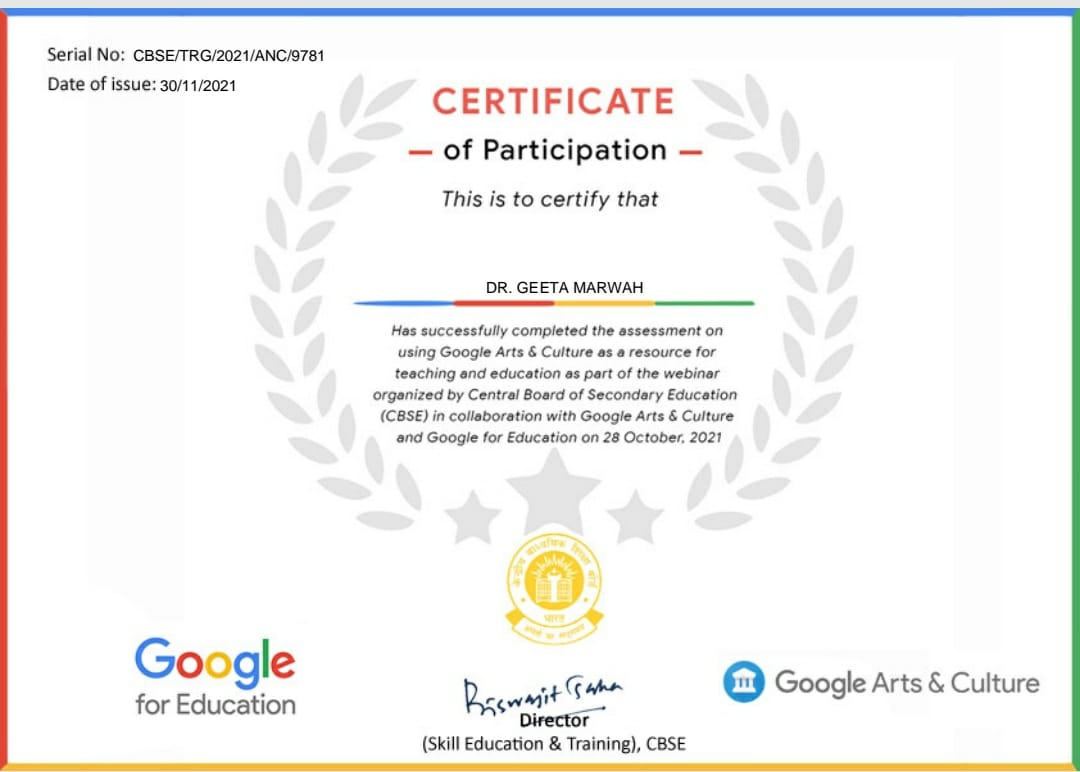 November – 30, 2021
Certificate of Participation as part of the webinar organized by CBSE in collaboration with Google Arts & Culture and Google for Education on 28 October, 2021.