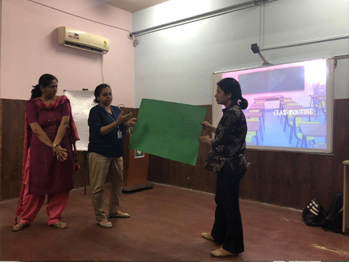 Routines of a Class teacher
OBJECTIVES OF THE ACTIVITY:
The objective of the workshop was
To learn the advantages of creating class routines.
To reinforce the essential class routines in RVS.
To brainstorm and create class routines for three stages during the day.

BRIEF DESCRIPTION:
A small opening activity of providing adjectives for "Class Teacher". Staff members were then briefed about why class rules are important for students as well as teachers. A walk through of the daily class room routines to be followed essentially in RVS in the form of a checklist. Finally, in the end an activity was conducted wherein the entire staff was divided into 3 groups : " Start of the Day" ; " During the Day" and " End of the Day" . Each team had to think of essential class room routines for the specific time period and jot down on a chart paper available . Time given was 5 minutes . A member from each team came forward and presented the points discussed within their teams.