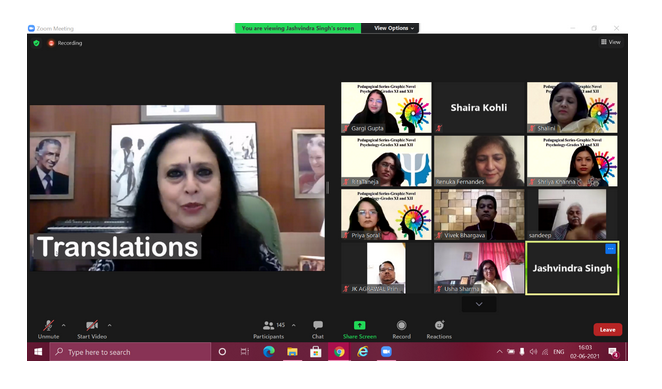 Psychology- Graphic Novel Workshop
Intent:
The workshop was chaired by Ms Rita Taneja, DPS Jaipur. She gave the introductory session on the discipline, Psychology- its meaning, branches and various career options. She further informed the participants about schools who volunteered to showcase their graphic novels.
Experience:
There were in total four novels presented in the session:
1. Ms Renuka Fernandez, DPS Sector 45, Gurugram presented a novel on Human Development. She explained the stages of development starting from prenatal stage to old age. 
2. Ms Shreya Khanna, Tagore International School presented a novel on Group Processes. She made us aware about the various characteristics, types, and stages of the group.
3. Ms Shalini, DPS Jaipur presented a novel on Anxiety Disorders. She talked about the causes of the disorder, signs, and symptoms and how they are treated.
4. Ms Gargi Gupta, SRN International School presented a novel on Schizophrenia. She explained the disorder with its various types of symptoms.
Three of the above novels are also available on the Diksha Portal. It was a highly informative workshop and would make it extremely easy for students to grasp the topics.
The Psychology graphic novel session brought about a feeling of change. Change is the only inevitable and as we progress towards changing times with the revolutionary NEP, experiential teaching has exemplified this change in the direction of growth. Graphic novels help aid the learning process by stimulating multiple senses. This was beautifully showcased by educators from across the country in a session that kept us glued to our screens. Both teaching and learning became fun, and we learnt the essence of maximum output in minimum time. 
Insight:
With the help of graphic novels and in the beautiful manner in which they were imparted, the lesson time was reduced from 30-45 minutes to 10-15 minutes, while making the learning even so memorable.  The storylines were set in scenarios highly relatable to students, for instance, learning about group dynamics by an example of students partaking in competitions. This will aid students in transforming textbook knowledge to real-life settings. Hence, graphic novels can be used as a transformative tool in the classroom.