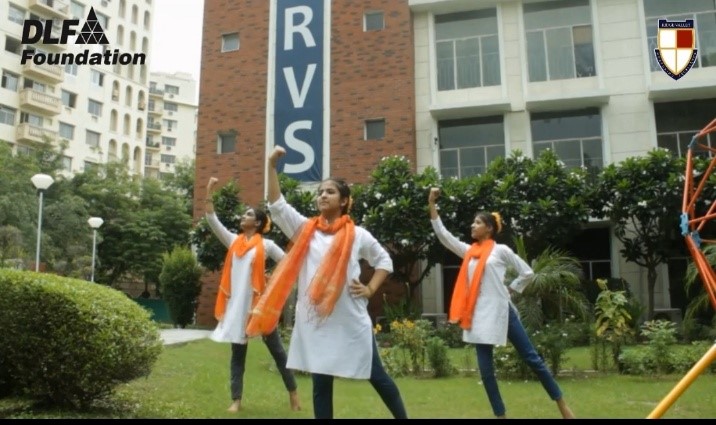 75th Anniversary celebration of freedom.
PERSONS RESPONSIBLE:
Co- curricular team, Ms.Divyasmita Biyani , Mr. Rakesh and Ms. Kamlesh , Ms. Anita Mishra and Ms. Inshu Kataria

OBJECTIVES OF THE ACTIVITY:
75th Anniversary celebration of freedom.

BRIEF DESCRIPTION:
RVS celebrated the 75th Independence Day with a lot of zeal and enthusiasm. Flag hoisting was conducted on the School Campus. Principal, Team Admin, Early Years Mentor, HOD Computer Science and Activity In charge with the support staff hoisted the flag and let the Indian Flag fly high!
This was then followed by the release of Indian Independence Day Productions wherein students participated in sharing the story of a brave heart of Indian soil who was a martyr in the 1975 India-Pakistan War – Captain MN Mulla.
The story revolved around his courageous martyrdom and his determination to stay with his fellow shipmates till it sank. The students were inspired by conducting themselves and adopting his fine features of determination, courage, etc. The video was released 1t 10:30 am on 15th August 2021 on YouTube.
Choosing an appropriate topic is the major and most important aspect of any activity. So first of all, the topic was perfect and relevant to the theme/ celebration. As it was 75th year celebration of Indian independence so "Mahaveer Gatha" was the perfect topic!
Flag hoisting was done by Mrs. Nidhi Tiwari. (Principal) Followed by the Message by Chairperson Dr. Ameeta Mulla Wattal.

Divyasmita ma'am shared the theme, discussed it with the co-curricular team. Mr. Narendra and Mr. Denis made a first cut of the skit scene-wise.
Mr. Rakesh and Ms. Kamlesh wrote the dialogues, Mr. Narendra executed the dialogue and poetry part and prepared children for the same. Ms. Snigdha and Mr. Denis choreographed the dance, Mr. Amon, Mr. Shekhar and Dr. Geeta (wrote lyrics and composed) did choir and shraddhanjali music. Palwinder, Mr. Kartik and Mr. Baljeet prepared the artwork to students.
Comparing speech by Anita Mishra ma'am And Ms. Inshu Kataria (English) Mr. Rakesh (Hindi) It was a learning experience for Students. All the children performed so well!!
The whole recording, mixing, and editing work was done by Narendra, Denis and Amon. Overall coordinated by Ms. Divyasmita and Dr. Geeta Marwah with the able guidance of Principal Mrs. Nidhi Tewari
Overall, it was a wonderful skit on the life of Captain Mahinder Nath Mulla. Inspiring and heroic.

WHAT WENT WELL?
The whole celebration starting from conceptualizing to implementing was a learning experience for the team students and audience. It was indeed a successful event conducted so gracefully by Team RVS.

SUGGESTIONS FOR IMPROVEMENT NEXT TIME THIS ACTIVITY TAKES PLACE:
As it's a saying when you stop learning you stop growing!! We are setting higher Goals for our own selves. Still chasing perfection.