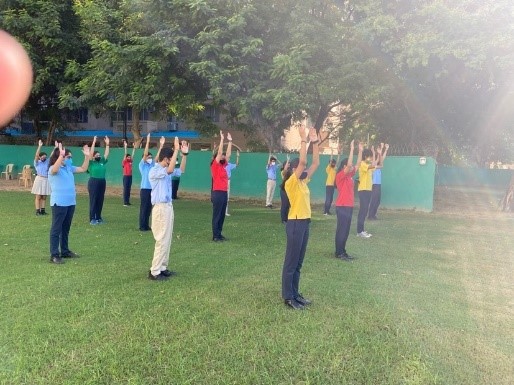 HPE Sessions for Grades X & XII
OBJECTIVES OF THE WORKSHOPS:
• The main objectives of physical education are to: develop motor abilities like strength, speed, endurance, coordination, flexibility, agility and balance, as they are important aspects for good performance in different games and sports.

BRIEF DESCRIPTION:
HPE Sessions were organized 'on campus' for students of Grades X & XII, keeping in mind all Covid Safety Precautions. Health and Physical education are concerned with the total health of the learner and the community. Besides physical health, it includes the mental and emotional health of the learners. WHO defines health as a state of physical, mental, and social well-being and not merely the absence of disease or infirmity. The aim of Health and Physical Education is to enable the student to attain such a state of health that, it becomes an education for the total human being. In this respect, it is a truism to say that the practice of healthy living will serve as the foundation for physical education. It is envisaged that any effort to promote aesthetic values at the school level will include natural esteem for physical well-being. Besides Mass PT, Fitness Through Zumba, Indoor Sports Conditioning were organized by the Co-Curricular Department of the school.