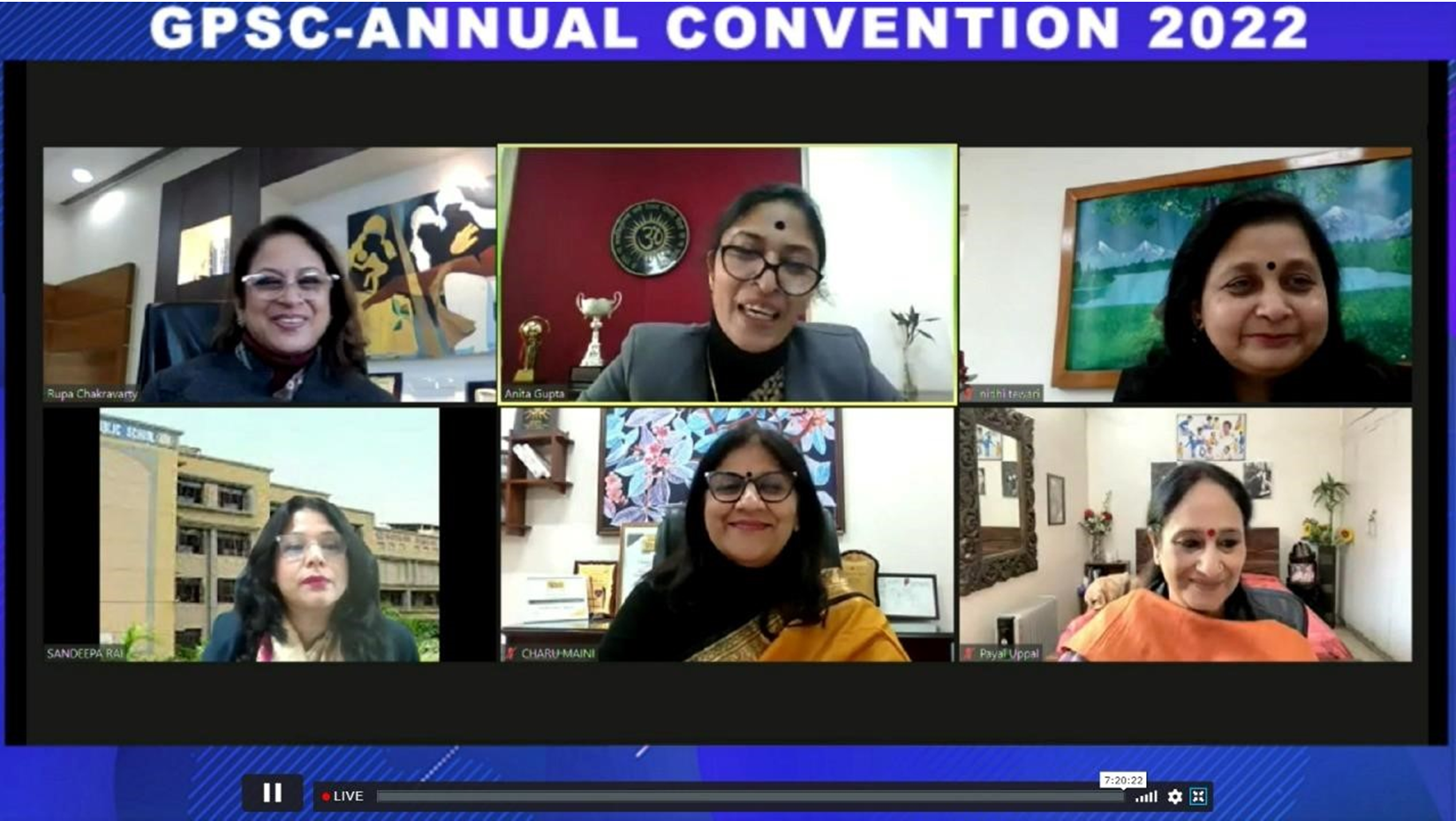 GPSC Virtual Annual Convention
Venue: Online
Date: 12th February 2022
Teachers who attended – 1. Ms. Anita Misra 2. Ms. Sonali Malik (Parent Rep) 3. Ms. Neelu Singh (Teacher Rep) 4. Ms. Ritu Singh 5. Ms. Swati Sabherwal 6. Ms. Divyasmita Biyani
Gurgaon Progressive Schools Council organized Virtual Annual Convention on Saturday 12th February 2022. The agenda for the convention was "Pathway to Education 5.0 with focus on creativity." The session began with a spiritual elevation by Sister Shivani where she enlightened the audience with ways in which creativity can be instilled in young learners.
This was followed by a panel discussion with following head of schools where each shared their ways of bringing creativity in our teaching learning methodologies:- 1. Manit Jain- Co-founder and Director of Heritage Group of Schools and ExChairman-FICCI Arise 2.Vanita Uppal -Director British School 3. Lt Gen Surendra Kulkarni-Director Mayo College, Ajmer 4.Anita Makkar—Principal and Education leader- HDFC school, Gurgaon. 5.Aditi Misra—Director – Principal-DPS, Sector 45, Gurgaon. Session IV included Panel discussion with illuminous global personalities like: Pramath Sinha -Founder of ISB Hyderabad, Ashoka University, Harappa University and Raghavendra Rathore- A haute couture designer for men. During session V (Roundtable), all the participating schools were sent to break out rooms to discuss and share their views on "Creativity - how it can be developed?, examples of creative work done by various schools, and so on". Apart from the Head of the schools, students and teachers, parent views were also expressed through the various questions asked by the executive members. The views of all the group members were then compiled and presented by Head of the schools.