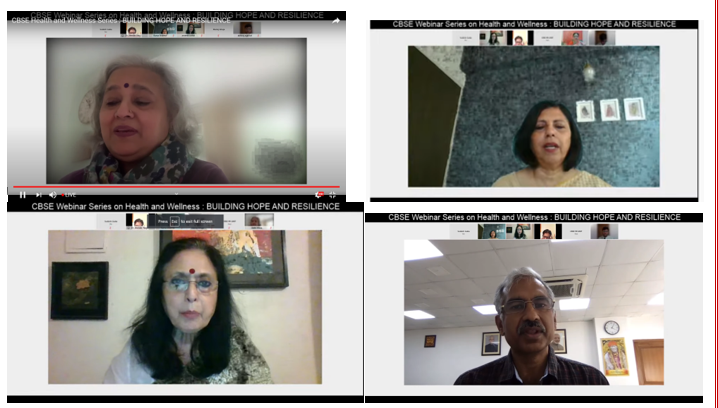 CBSE Health and Wellness Series- BUILDING HOPE AND RESILIENCE
Intent:
To find out the ways for building hope and resilience
Experience:
The webinar was based on the mental health and well- being of students and how to reduce the adverse effects of Coved-19 on the students and generate hope for the future.
Insight:
The webinar was very engrossing. It focused on the social well-being of the students, and the ways to help students to minimize the feeling of grief and bounce back to normalcy. The chairman sir of CBSE, Mr. Manoj Ahuja guided us to seek the valuable partnership of schools and parents for building community, to generate collective understanding cooperation and hand-holding. He put emphasis on giving space and a safe environment to the children, and making sure that the children express their feelings and share their thoughts, be it anger, grief or any other feeling. He also suggested parents and teachers not be judgmental and be empathetic. We should encourage children to help their peers across the country.
The various leaders of different schools shared their valuable insights on the mental well- being of our students. Like, Dr. Ameeta Mulla Wattal mentioned that teachers should be able to tackle situations when students lose their loved ones, by nurturing a positive attitude, helping them to detach from the trauma and giving them hope for the future. Dr. Aditi Mishra said that parents, teachers, students, alumni and all the stakeholders should come together to deal with the unusual situations and find out ways to help students.