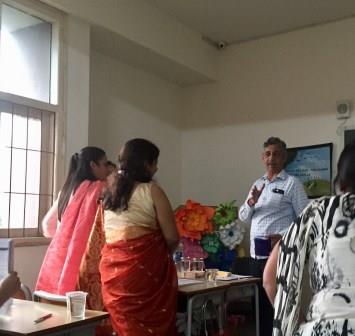 Capacity Building Workshop on Life Skill Management
The workshop commenced with a story highlighting the fact that in order to have children develop an interest in class, first ask students questions the answers of which they know and then gradually take them to the point where they ask questions and are ready to listen.
1. The WHO definition of Life skills and the five golden rules listed below for a teacher were discussed.
2. Always have good relation with your students, but not personally.
3. Be friendly, but not a friend.
4. Don't humiliate any child publicly.
5. Don't make issues just for anything. Keep a safe distance from the child.
This was followed by a discussion on the ten core life skills as identified by the WHO that fall into three basic categories which compliment, supplement and reinforce each other.
1. Thinking skills, Self-awareness, Problem-solving, Decision making, Critical thinking, Creative thinking.
2. Social skills, Interpersonal relationships, Effective communication, Empathy.
3. Emotional skills, Managing emotions, Coping with stress. The session ended by showing video clippings that reiterated the importance of core life skills in dealing with everyday situations.