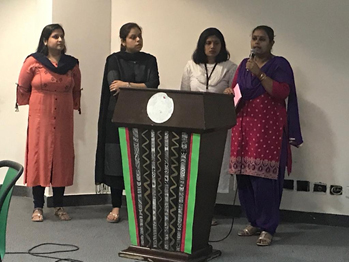 A capacity building workshop for the psychology teachers of classes 11th and 12th was conducted by CBSE CoE Delhi on 17TH -18TH May 2019 at Manav Rachna International School, sector 46 Gurugram. The resource persons were Ms. Anjum and Ms. Suneetha Panchnatham. There were 23 participating teachers from various schools of Delhi NCR. Day 1 was set for an overview of the basics teaching and learning as it should ideally happen for the subject. In the second session Bloom's Taxonomy was discussed in detail.
Bloom classified the learning outcomes in the following categories.

Remembering
Understanding
Application
Analysis
Evaluation
Creation

The framing of questions based on the above-mentioned outcomes was discussed with the help of handouts. The next session was set for discussing the various teaching methodologies. After an open discussion each group was given a topic and to present how they explain it to students. The last session of the day was dedicated to the formulation of unit plans and lesson plans for the various topics. Teachers were divided into topic wise groups to discuss lesson plans The second day was dedicated to the presentation of lesson plans prepared the previously day. One group presented the lesson while the other observed and shared its feedback. The last session was about assessment and evaluation and its purpose. Participants were given a variety of questions. They evaluated each question as good or bad and suggested ways to improve upon the same. The session on practical and project work and its evaluation was very useful. it elaborated on the various skills learnt by the students.